Cookie Policy
Last updated and effective from: 15th March, 2022 
Be Fibre is the trading name of Be Fibre Ltd (registered number: 13406629) whose registered office is at D N S Associates, 382, D N S House, Kenton Road, Harrow, Middlesex, United Kingdom, HA3 8DP. 
In this Cookie Policy, all references to "we", "us" or "our" are references to Be Fibre. References to our website meaning the website at www.be-fibre.co.uk 
Our website uses cookies to distinguish you from other users of our website. This helps us to provide you with a good experience when you browse our website and also allows us to improve our site. 
A cookie is a small file of letters and numbers that we store on your browser or the hard drive of your computer if you agree. Cookies contain information that is transferred to your computer's hard drive. 
We use the following cookies: 
Essential cookies

. These are cookies that are required for the operation of our website. Our website cannot function properly without these cookies. They include, for example, page navigation and access to secure areas of our website (e.g. to log into your account area or to order our services).

 

Performance cookies

. These allow us to recognise and count the number of visitors and to see how visitors move around our website when they are using it. This helps us to monitor website traffic and improve the way our website works, for example, by ensuring that users are finding what they are looking for easily.

 

Functional cookies

. These are used to recognise you when you return to our website. This enables us to personalise our content for you, greet you by name and remember your preferences (for example, your choice of language or region).

 

You can find more information about the individual cookies we use and the purposes for which we use them in the table below: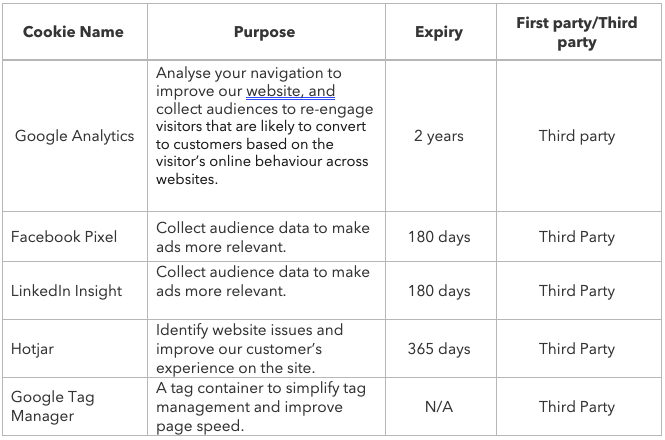 Force24 Cookies & Tracking
Our organisation utilises Force24's marketing automation platform.
Force24 cookies are first party cookies and are enabled at the point of cookie acceptance on this website. The cookies are named below:
They allow us to understand our audience engagement thus allowing better optimisation of marketing activity.
f24_autoId – This is a temporary identifier on a local machine or phone browser that helps us track anonymous information to be later married up with f24_personid. If this is left anonymous it will be deleted after 6 months . Non-essential, first party, 10 years, persistent.
f24_personId – This is an ID generated per individual contact in the Force24 system to be able to track behaviour and form submissions into the Force24 system from outside sources per user. This is used for personalisation and ability to segment decisions for further communications. Non-essential, first party, 10 years, persistent.
The information stored by Force24 cookies remains anonymous until:
Our website is visited via clicking from an email or SMS message, sent via the Force24 platform and cookies are accepted on the website.
A user of the website completes a form containing email address from either our website or our Force24 landing pages.
The Force24 cookies will remain on a device for 10 years unless they are deleted.
Other Tracking
We also use similar technologies including tracking pixels and link tracking to monitor your viewing activities
Device & browser type and open statistics
All emails have a tracking pixel (a tiny invisible image ) with a query string in the URL. Within the URL we have user details to identify who opened an email for statistical purposes.
Link Tracking
All links within emails and SMS messages sent from the Force24 platform contain a unique tracking reference, this reference help us identify who clicked an email for statistical purposes.
How to block cookies
You can block cookies by activating the setting on your browser that allows you to refuse the setting of all or some cookies. However, if you use your browser settings to block all cookies (including essential cookies) you may not be able to access all or parts of our website. You can find out more about how to disable cookies at https://www.aboutcookies.org.uk/managing-cookies or https://www.allaboutcookies.org/.